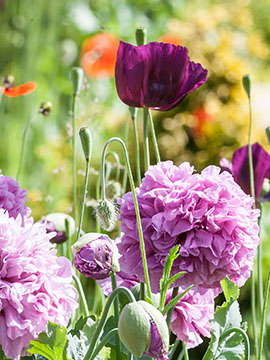 Obituary of Selma Hoffman
Selma Hoffman died at Sunnyside Manor in Wall at the age of 83. She was born in Brooklyn, NY to Meyer and Lillian (nee Sheinkopf) Swirin. The death of her mother when she was 8 years old was a devastating loss which affected her throughout her life. Her father later re-married a distant cousin Ethel Swirin. She graduated from Tilden High School in Brooklyn. After Meyer and Ethel's divorce, she and Ethel moved to the Bronx where she worked in Ethel's women's specialty shop. She attended The Art Students League of New York before marriage.
She married Bernard H. Hoffman, Esq. in 1961 and first resided in Red Bank until their move to Shrewsbury where she resided for over 40 years. She was an original founding member and past president of Riverview Hospital's Evening Auxiliary and chaired many fundraising events. She also helped establish the Hospice Foundation at Riverview. She was a past member of Congregation B'Nai Israel in Rumson.
She was an extremely talented and artistic person who designed and created unique clothing and jewelry. She never used a sewing pattern and could finish an outfit in days. She often volunteered her time and creations at fundraising fashion shows for many charities. She enjoyed making beautiful outfits and costumes for her daughter.
She became a professional Middle Eastern dancer known as "Selima" and made her debut with Jimmy Linardas, band leader and recording artist, and danced with Eddie "The Sheik" Koshak, Youssef Kassab and Ramy Nasser. She made her own elaborate dance costumes and taught classes as well. She volunteered to dance at many fundraising events around NJ and she often danced at the VA hospital which always made her happy to lift the resident's spirits. She produced and starred in "El Mahaba" (which translates into "join hands in peace and love") at Brookdale Community College which included many other notable dancers and musicians. She believed that music and dance is a vehicle where peaceful feelings among the Middle Eastern nations could evolve.
She loved to socialize and entertain at her beloved home and was the quintessential hostess. She loved to throw parties and many a Jewish holiday was celebrated with her Egyptian, Bahraini, Indian and Portuguese friends at the table. She loved to cook, and her chopped liver was legendary. She loved to decorate and was an early DIYer learning how to refurbish and reupholster furniture among many other skills. She developed quite the green thumb and loved to landscape her yard and was always tending to her plants.
She is survived by her loving daughter Marla Hoffman and grand dog Pearl, her son Alan Hoffman, and his daughter Vivienne, all in NJ as well as her loving sister Hannah Tanzer in NY and her sons Steven and Lawrence and their children, loving cousins Edward, Howard, Stephanie, Paul and Benjamin Benson in NC and many more loving relatives from the entire Swirin clan, as well as long-time friends.
Selma is now dancing with her beloved mother and other loved ones. She was beautiful and one of a kind. We all love you and know you are in a better place now. Forever rest in peace until we see each other again.
The family would like to thank the staff at Sunnyside Manor as well as Brandywine in Colts Neck where she resided for many years. The support of many friends and family over the past years is also much appreciated.
Graveside Funeral Service
10:00 am
Monday, January 11, 2021
Freehold Hebrew Benefit Society Cemetery
Business Route 33 West
Freehold, New Jersey, United States