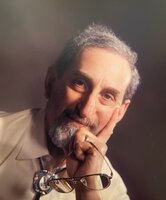 Richard J. Stromwasser
Richard Joel Stromwasser, 79, of Wall, passed away August 3, 2022 at Riverview Medical Center, Red Bank, NJ. Richard was born at Fitkin Memorial Hospital in Neptune, NJ in 1943. Son of Coleman and Edith and brother to younger sister Judy, he attended the Ardena Elementary School and graduated from Freehold Regional High School in 1961. He attended Pratt Institute for architecture. He was part of the New Jersey National Guard from 1964 to 1970.
Meanwhile he had returned to the family business of Freehold Lumber Co. and eventually became President from 1976 until 1992. He served one term as president of the New Jersey Lumbermen's Association and was an active member of the Howell Chamber of Commerce, yearly donating a framed portrait of the Member of the Year.
Soon after the lumber business closed, Richard followed his passion and became a professional photographer. He was an active member of the Professional Photographers of America and received many award ribbons for his excellent photography in his business of Ardmore Custom Photography (1995-2018). Richard is best known for his children, pets and family photography and elaborate holiday sets.
Richard was not all work because he took every opportunity to enjoy car shows, rallies and was one of the first members of the Surf Corvette Club in Point Pleasant. He had his own car collection which included his favorite Porsches – 911 and 356B convertible. He participated in many annual local parades with his antique Ford model AA truck. He also enjoyed woodworking and was very proud of the custom table he built as well as his many woodturning creations.
Richard has enjoyed seeing his four grandchildren, Brayden, Ethan, Olivia and Jackson growing up. He leaves beloved wife Esther of 54 years and his children David (and Pamela) and Betsy (and Tom) who all thank everyone who has reached out to extend their heart-felt sympathy.
Memorial contributions can be made to the American Parkinson Disease Association or the American Heart Association. Funeral arrangements are under the direction of Belkoff-Goldstein Funeral Chapel, Lakewood, NJ.