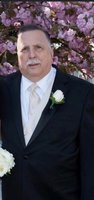 William Nathanson
William "Bill" H. Nathanson, 78
Beloved husband, father, grandfather, uncle, great uncle, friend William Nathanson of Brick, NJ passed away suddenly on April 12, 2021. He was born in Bronx, NY to Isadore and Molly Nathanson, brother to David Nathanson and Avram Nathanson. He attended the Roosevelt H.S. in Bronx, NY.
William's life was forever changed after one bus ride. While riding a bus in the Bronx, he talked to and exchanged names with a shy young woman and had to find her after this brief encounter. William put an ad in a local paper stating, "if your name was Madelyn, you were wearing sunglasses on a bus on this day, please call me". A friend of the family saw the ad and told Madelyn's family, and after he married the love of his life Madelyn (Genee). William was a long time NY Giants and NY Mets fan (Can you believe not a Yankees fan and from the Bronx), and NYG season ticket holder. He enjoyed many games with his children throughout the years.
William had his own cab, where he no doubt was a "typical" NYC cab driver with some added Bill spunk. William had many positions throughout his time but landed his career at the Garden State Parkway, where he remained a longtime employee and retired in 2005. During his time there, he met many great people he was proud to call his friends.
William and Madelyn had two kids. He was the devoted father of Isaac Nathanson and Sarah Errico (Joseph). He was the cherished grandfather to Joey and Matty Errico. William was a friend to many, some who may know him as "crazy Bill", "wild Bill", or "Nate". William enjoyed attending Isaac and Sarah's sports during their youth attending many Brick Football and Brick Field Hockey games. Additionally, he was a baseball coach at Brick Little League. A story lives on that while William was coaching the BLL Padres, William told the team he could hit a home run. Well guess what, he did! The only problem was that when the ball went outside the fence, it ended up breaking his car windshield.
A graveside service will be held April 16, 2021 at Beth Israel Cemetery 1098 Woodbridge Center Dr, Woodbridge Township, NJ 07095 at 1 p.m. (Please arrive 12:30 p.m.).
Donations in William's honor may be made to the American Lung Association www.lung.org.